January 2, 2020 | By Jimmy Alvarez
---
Viva Ska Vegas is Becoming Essential to Sin City's Music Scene
How I wish that there were more than the twenty-four hours in the day, even if there were forty, I wouldn't sleep a minute away… Viva Las Vegas, Viva … Viva… Las Vegas. Those are the immortal words of the King, Elvis Presley! Over the decades, Vegas has become more than an Oasis, it's become a destination for everyone from coast-to-coast and around the world, and now it's become a music festival haven.
(A Little Lest Conversation by The King)
From one side of t
he strip to the other, the shows and sporting events you can see on any given night are simply unreal. What's also becoming evident is that just like in L.A or New York, you can catch a great band or bigger-than-life festival very easily. Then again,
bigger doesn't always translate to better, or essential.  
What's essential in any community are shows that the locals support and really look forward to.  With a little less conversation, a little more action, a few promoters and one local DJ took the bull by the horns to do something about having a home-grown-uber-cool music festival; the festival is Viva Ska Vegas ["VSV"]. 
Back in the not so distant past, festivals like the Vans Warped Tour would come in once a year and it delivered the who's-who of music and the next big thing. That festival had great supporting acts that represented a full spectrum on the music world.
For the locals, punk and ska bands that were represented at Warped did a good job of satisfying their appetites; these bands were legit. Bands that became Warped Tour legends include The Mighty Mighty Bosstones, Fishbone, Goldfinger and Rancid.
Sadly, Warped is no more; and despite the lack of any new traveling ska-punk circus, Vegas has developed its own identity; and the world is paying attention.
(Tne Impression That I Get from the album titled, Let's Face It)
[3rd Wave ska icons, The MIGHT MIGHTY BOSSTONES] 
We know all about events like Punk Rock Bowling ["PRB"]. This annual punk and ska pilgrimage has been instrumental in building the local music scene's self-identity. 
PRB has brought us a range of bands from the world of Alternative Rock. Bands like Bad Religion, Rancid, DEVO, The Specials, Descendents and Iggy Pop just to name a few. This event has become instrumental in DTLV becoming a legit music destination.  
That being said, when you ask people in the know, what makes a music scene essential? The answer rarely revolves around a once a year or occasional large event. The answer always circles back to people within the community that support it on an every day basis.
(Nite Klub from their self-titled album) 
[2nd wave TwoTone icons |The SPECIALS]
As the music Fates would have it, one of the biggest supporters for DTLV music is Vegas-based DJ, Josh Coutts. Back in 2011, Josh Coutts started a radio program for no other reason that he loved the ska genre. Now in its 4th evolution, ska is blowing up again and so is his radio program. We'll circle back to that.
With radio, stream and online radio support… newer bands like The Interrupters have blown up. We've also seen the re-emergence of bands like The Specials, English Beat and the longevity legends like Reel Big Fish, The Aquabats, Mighty Mighty Bosstones, No Doubt along with East Coast juggernauts, Big D & the Kids Table. They too are getting the much-deserved notoriety they deserve. As a result,
ska-punk themed festivals are being highlighted everywhere on the planet. 
(Gave You Everything from the album titled, Fight The Good Fight)
[4th Wave Juggernauts | The INTERRUPTERS]
As for Coutts, he's originally from Santa Cruz, California, where he grew up listening to Bradley Nowell-era Sublime. You have to ask yourself, how did he got into ska? Coutts says he has one person to thank for that. He said "My dad showed me The Specials and Madness, and that's pretty much what started it," he says. "It was a lot of early soul music that got me into everything, and I got to see The Clash and the Ramones together when I was like 7 or 8 years-old. Without my dad, I wouldn't have had any of that. I thank him every day for showing me cool stuff."
Coutts eventually migrated to Vegas in 2003 and quickly started DJ'ing and promoting shows. Eventually, he landed a gig opening for English ska legends Madness. Coutts said with a smile "they're my favorite ska band ever." From there, he was offered a show with Double Down Radio, where he stayed for nearly six years before eventually landing a spot with Radio Vegas Rocks. 
What did he want to accomplish? He went on to say that he always wanted to provide the locals a solid base, a place and platform where they could hear old school the 1st wave sound of artists like Prince Buster, 2nd wave TwoTone greats like Madness and the 3rd wave tunes of all the 3rd wave ska legends who play town from time-to-time. The was the genesis of Viva Ska Radio. 
(Madness from the album titled, I Feel The Spirit) 
[1st wave legend | Prince Buster]
As for the broadcast, Coutts (aka Jr. Ska Boss) and his broadcast partner, Joseph Guadamuz (aka Selecta' Scream); they spin both new and old-school (Ska, Reggae, Rocksteady and other Rudeboy Hits with Punk and Mod thrown in.
VIVA SKA RADIO
Wednesday Nights |

7pm to 10pm
Over the years, VSV has become a draw for fans and destination target for bands. For established bands, this is a festival you want  to support.
If you're the next big thing and want street cred, this is the festival to be part of. 
Several years ago, Coutts assisted Promoter, Brian Saliba, in putting together a show called Ska Circus. Shortly thereafter, as Viva Ska Radio doing well, it just made sense to him to bring back a ska festival. With Saliba presenting VSV and additional support from Scott Tucker of Sellout Productions (Huntington Beach, California), Viva Ska Vegas is now in full effect. 
If the name Brian Saliba sounds familiar, he's the force behind Bogus Entertainment, he's also the head of local publishing music news company, Smash Magazine.
Bogus Productions is no stranger to successful events, past music festivals include the Vans Warped Tour, Life Is Beautiful Festival, Punk Rock Bowling and  Rock In Rio USA just to name a few. 
So, we know about the who, how and why, so what about this year's event? With Coutts, Saliba and Tucker at the helm, VSV was built to entertain. It's back for 2 days of skankin' madness. This year the show will be held March 20th and 21 at Backstage Bar & Billiards.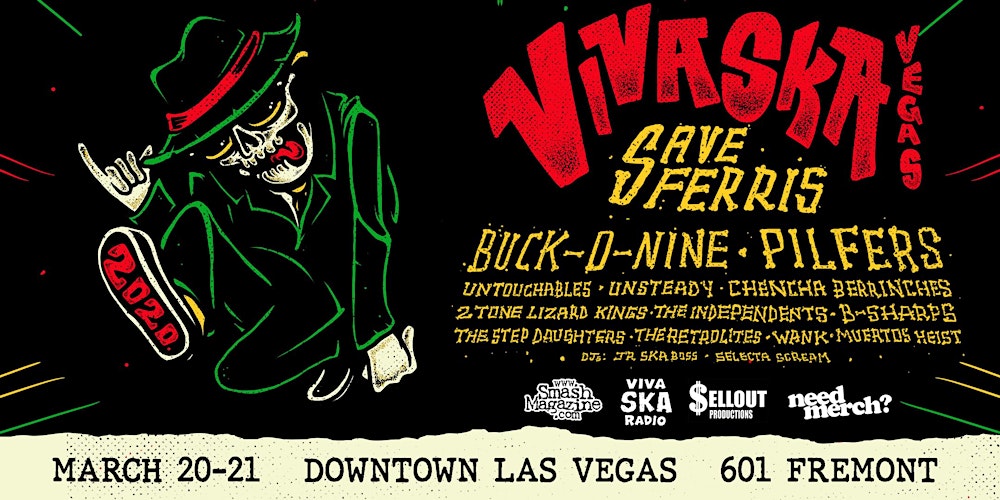 Concertgoers will be slamming and moshing their way to the sights and sounds of ALT Rock, Punk, Reggae and Ska tunes delivered by bands from throughout the country.
Entertaining everyone will be Monique Powell's Save Ferris, San Diego's favorite ska sons Buck-O-Nine, the New York sound of Pilfers, from L.A, there's The Untouchables (featuring the legend, Jerry Miller), also from San Diego – Unsteady, and from Riverside (CA) there's The B-Sharps, from Costa Mesa (CA) there's Wank; and from South Gate (CA) there's Chencha Berrinches and from Huntington Beach (CA) there's The Stepdaughters. As for local representation, local bands The Retrolites and Muertos Heist will entertain everyone.
At the end of the day, what matters is keeping our faith in our music intact; that's essential. Coutts, Saliba and Tucker are making sure our faith endures with events like VSV. We get to see new bands and those that not only made history, they are history…. that's very essential.   
---
---
---
Doors open each day at 7 p.m. ; skankin' starts at 8 p.m.
For more information on Viva Ska Vegas:
For more information on Backstage Bar and Billiards:
601 Fremont St, Las Vegas, NV 89101 | Phone: 

(702) 382-2227
https://www.backstagebarlv.com/
---
---
---
FRIDAY LINEUP:
The Untouchables, Chencha Berrinches, 2 Tone Lizard Kings, B-Sharps, Muertos Heist.
SATURDAY LINEUP:  
Save Ferris, buck-O-Nine, Pilfers, The Retrolites,  Unsteady, The Independents, The Step Daughters, and Wank.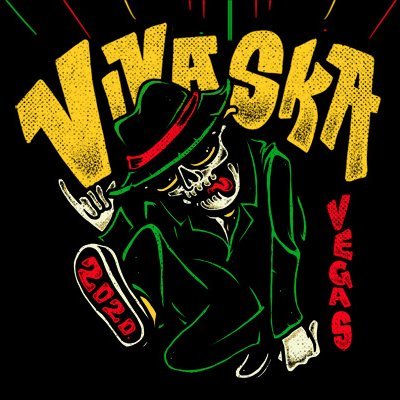 CHECK OUT MORE GREAT STORIES AT OC MUSIC NEWS ON FACEBOOK